Introduction
In beach soccer, the way the goalkeeper contributes to building the play in the attacking phase almost always influences the whole team's playing style, as opposed to what happens in football or futsal.
In general, as we have seen, development of the play can be based on direct attacks and counter-attacks, where in some ways the goalkeeper's throws are strongly reminiscent of the function of a quarterback in American football, or on combination attacks. For example, any team that adopts the 2-2 approach in the possession phase cannot do so successfully without the goalkeeper's technical skills with his feet.
On the basis of these now proven certainties, the Technical Study Group (TSG) asked a further question during its observation and analysis of the FIFA Beach Soccer World Cup Russia 2021™: how much impact in terms of numbers is made by the goalkeeper's participation in the attacking phase for each team? In other words, how many and which of the 175 goals scored in open play would not have been scored without the goalkeeper's involvement?
The statistics
Of course, this statistic includes first of all six goals that were scored in open play by goalkeepers, which we have already highlighted and analysed under the heading of individual attacks by goalkeepers in article 3, to which the two goals scored by the tournament's Golden Glove winner Eliott Mounoud and by Uruguay's Alejandro Guerrero must be added, both of which were from free kicks in zone 1 (goals examined in article 4).
There were higher numbers for assists provided by goalkeepers. There were 36 final passes that set up goals, ten of which were with feet and 26 with hands. But it is not only goals and assists that highlight the goalkeepers' importance in the attacking phase. The TSG identified another 59 goals in the tournament in which the goalkeeper's involvement in developing the move was key to scoring a goal.
The numerical data that testifies to the fundamental role of goalkeepers in the attacking phase is therefore as follows: at the FIFA Beach Soccer World Cup Russia 2021, goalkeepers played a crucial role in 103 goals (eight goals, 36 assists, 59 cases of key involvement in the move) out of 175 goals scored in open play. This means 58.86% of the goals scored in open play at the FIFA Beach Soccer World Cup Russia 2021 included direct involvement by goalkeepers.
Below, this particular trend is examined by tournament group.
Group A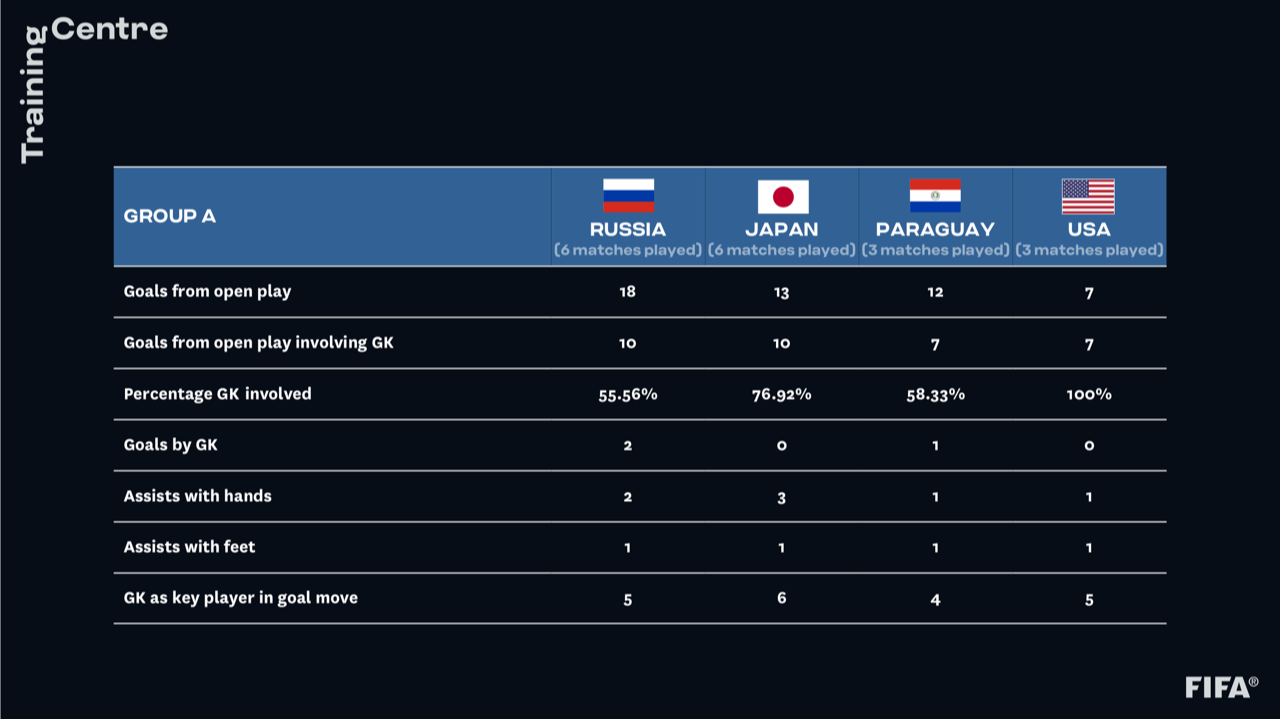 Group B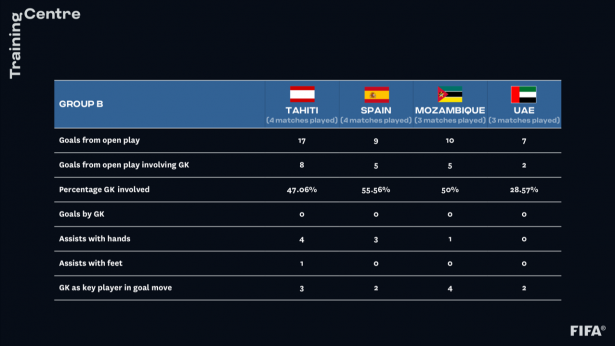 Group C
Group D