The 40 participants from across CAF, CONCACAF and AFC, explored the importance of collaborative relationships, the role of the technical director and long-term planning during the 5-day course held at the Mohammed VI Football Complex.
"Although it is not the first time FIFA have brought together technical directors and general secretaries on a course, it is a still a relatively new and unique approach to how we are approaching education for our member associations," explained Jamie Houchen, FIFA Head of Technical Leadership.
"We know that the success of a technical director is often down to their relationship with the general secretary and we also know that being collaborative is a key part of being successful in the role. So, our aim was to bring the two roles together to explore how they can work effectively as a leadership team," added Houchen.
'The presence of the Technical Director is fundamental'
Participants were welcomed to the course by the President of the Royal Moroccan Football Federation and FIFA Council Member, Faouzi Lekjaa. In his opening address, Lekjaa outlined the importance of football development and the crucial role technical directors have in achieving this aim.
"The presence of the technical director to install and establish a vision and programme of football development is fundamental. Hence, the importance of what technical directors are going to do in the near future," said Lekjaa. "What technical directors do will condition the young persons and practices of tomorrow."
Current technical director of the Royal Moroccan Football Federation, Chris Van Puyvelde, was a participant on the course and underlined the importance of sharing knowledge between member associations.
"To listen to other colleagues and to see how they work is a really good opportunity and platform to work together," said Van Puyvelde. "I have been here to learn and you learn a lot by discussing and you learn a lot by listening."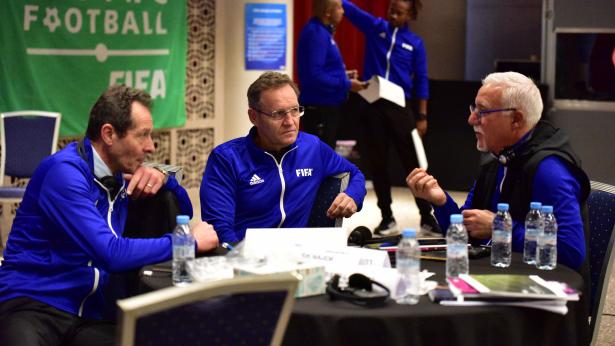 Sharing experiences of the day-to-day role of the technical director
In addition to the focus on working alongside general secretaries, technical directors spent time sharing experiences of their day-to-day role and exploring the leadership capabilities needed for effective performance.
"Courses like this are very enriching because you share ideas and you see there's always room for improvement," said Nasser Larguet, Technical Director for the Saudi Arabian FA. "Although I have been a technical director for a long time there are always a few things that you learn and that get me to change my course."
Technical director for women's football in Australia, Rae Dower, celebrated the opportunity to discuss women's football with other participants.
"I feel really privileged to have been here alongside so many really strong female leaders in the room," said Dower. "Listening to how receptive and positive everyone has been about the women's game is another really great step forward. I love these kinds of opportunities to talk both formally and informally about the game. It really helps to promote a lot of self-reflection and self-discovery."