Football is the world's most popular sport. Its unprecedented growth has led clubs, member associations and other entities within the sport to search for more expertise to help optimise their environments. Today organisations are made up of multidisciplinary teams comprised of specialists in coaching, technical leadership, talent identification, performance analysis and many other areas.
Today organisations are made up of multidisciplinary teams comprised of specialist
Due to the game's growth in terms of the number of specialists and breadth of expertise, the world now consists of a vast global football network. There are recognised hubs in parts of the world where some experts can come together, but there is yet to be a single shared space where all football brains can connect globally.
My Community is designed to help fill this void. The platform organises and encourages knowledge exchange, provides a bank of bespoke educational resources, and brings people together regardless of their location.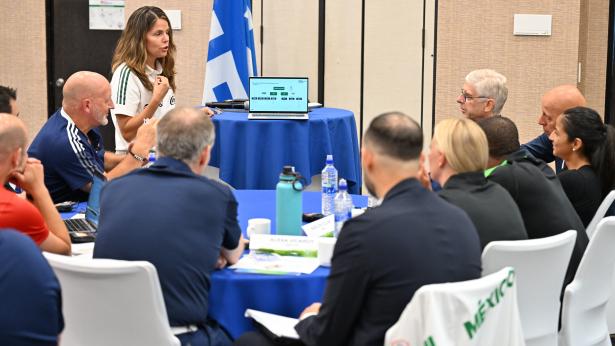 A single shared space where all football brains can connect globally
Who is My Community for?
Since its launch, the Training Centre has been the platform for all of FIFA's technical content. The content on My Community follows a similar principle, but is more specialised and tailored to four distinct areas of the football ecosystem: amateur football, coaching development, high performance and technical leadership.
What does My Community offer?
My Community delivers content in several formats:
News articles will update visitors to the site on FIFA's latest activities in the domain of technical development.
Good Practice pieces see individuals from clubs, academies, member associations and other football environments come to introduce a process of their organisation that has proven to make a positive impact.
The Expert Knowledge series will feature pieces where experts present their personal expertise, which will either be directly relevant to football or transferable to and from other sports.
Two types of Science content will be included to offer an empirical perspective to the beautiful game: "Research Briefs", in which a scientist presents an individual research paper relevant to football; and the "Science Explained" format, which allows a scientist to provide an extensive overview of a football-related field.
Role Insights sees members of various football institutions break down and shed light on the core responsibilities of their roles.
Event content will include articles on recent and upcoming events of interest to My Community readers.
Resources are relevant work references such as handbooks or reports, provided by FIFA
My Community will also function as a central repository, providing an overview of FIFA's educational programmes, open-door events and webinars. In the future, this area will be developed with additional features to enhance the learning experience.