Earnie Stewart, US Soccer's Sporting Director, has first-hand experience of how the soccer culture has evolved in the United States over the last 20 years. The former U.S. international spent most of his club career in the Netherlands and explains that when he came over to play for the U.S. in home matches, the crowd could provide a somewhat disconcerting experience.
Stewart said that fans would cheer at unusual moments such as when a player headed the ball. "If you came from Europe and you played in Europe, the moments of cheering were awkward," he said.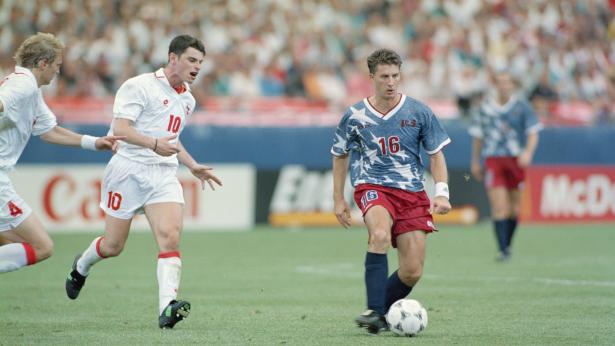 It is all very different nowadays. "There is a soccer culture, there is a soccer atmosphere, stadiums in the MLS and NWSL are coming along, these places are being sold out, which is really important," said Stewart, who won 101 caps and played at three FIFA World Cups. "So, that means the sport has grown at a tremendous pace and the understanding of what they see is really there."
Men's national team results have also improved greatly. The U.S. have reached the FIFA World Cup quarter-finals once, the round of sixteen twice and the Copa America semi-finals once. Last year saw them win their seventh Concacaf Gold Cup title as well as the inaugural Concacaf Nations League. Most recently, they sealed their place at the FIFA World Cup Qatar 2022™ where they will face England, IR Iran, and either Ukraine, Scotland or Wales in Group B.
FIFA President Gianni Infantino wants to increase global competitiveness as part of his Vision 2020-23 and, with a men's World Cup on home soil coming up in 2026, it would appear to be the ideal opportunity for the U.S. to take the next step and reach the later stages of the tournament. In women's football, the U.S, are already at the top with four World Cup and four Olympic titles – both records – and they intend to stay there.
Ensuring that every talented player gets a chance is a key part of that plan, and in that sense, FIFA's ground-breaking study on the global development ecosystem could not have come at a better time – especially as it included a dedicated country report for each participating member association.
"We are in the process of creating our technical plan for our technical development. So, it couldn't have come at a better time to actually have a third party, in this case, FIFA coming in and actually analyse us," he said.
"What does talent development look like in our country and what were our thoughts? We sought to combine those with the thoughts of FIFA, and at the same time, the best practices that they've seen all over the world. We want to become better every single day. We have huge ambitions as the United States. We have a huge country, so we have the numbers, we have the facilities."
We want to become better every single day. We have huge ambitions as the United States. We have a huge country, so we have the numbers, we have the facilities.
Ged Roddy, a high-performance specialist who worked on the U.S. country report, said the USSSF's positive, open-minded approach was an example of how the report could benefit MAs.
"The USA entered into this project with a really open mindset, and they were, and are, already searching for areas where they can improve because they want to be the very best," he said. "There were no walls being put up, there were open and honest conversations about what they felt they did well and what they felt they needed to do better."
"In the nicest possible way, they used FIFA, which is exactly what we wanted them to do, because it gave them time and space to review what they were doing and make some decisions about how they were going to work going forward."
Stewart recognised that the U.S. faces challenges when it comes to ensuring that talented players did not slip through the net. "I think there is a way that we can better organise ourselves so that doesn't happen as much," he said.
"From what I've seen, and what FIFA has seen, is that we have all these different pyramids. If you can structure and organise that in the best possible way, it won't happen as much. But, because there are these separate entities and organisations that all have their pyramid, I can imagine that there is talent that gets lost."
It was also important that there was a clear pathway from junior football towards professionalism, especially as football in the U.S. has to compete with other sports.
"Every child should be able to play at their level, whatever that level is. Some of them become professional soccer players; others become referees; others become fans of the game," he said.
In the women's game, Stewart said it was possible that the pathway through college soccer might become less important. "In the past, and that's something we're looking at right now, college has always been like this extreme plus that we had here in the United States," he said.
"What we've seen on the boys' side, is that the college pathway has actually become less critical. The MLS has built up their academies, the USL too. More academies have been built within the soccer ecosystem on the boys' side, and the thought is also, that is going to happen more on the women's side as well. So, we're trying to keep a close eye on that."
In the long run, the aim is to join the list of teams whose names routinely crop up on the list of potential men's World Cup winners, while remaining at the top of the women's game
"In the end, it's also about sustainable success," said Stewart. "Obviously, you want to compete with bigger countries like Spain and Brazil that have been in finals and always reach the quarter-finals or semi-finals. That's where we want to get to. That's why we come to the office every single day, and what we are working towards."